Tippi Hedren
Producer of ROAR and actress playing the part of "Madeline"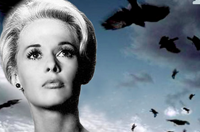 Tippi Hedren isn't the paranoid type, but you wonder why not. Judging by her films, the world is clearly out to get her.
In "The Birds" she was the target of hundreds of demented Hitchcock fowls. In the film "Roar" she is knocked about, trodden on, dunked and generally harassed by equally menacing lions, tigers, leopards, cougars, cheetahs and jaguars.
The only difference is that "Roar" is not a horror movie, but an excruciatingly funny comedy.
That difference, if you are in Tippi's size five shoes, may seem academic. Attacks by "The Birds" were largely a matter of trick photography, but every frame of "Roar" is real.
In this picture Tippi Hedren proves herself a plucky actress, richly deserving the accolade of an admiring film crew, who called her the Pearl White of the 1980's.
Tippi plays the part of a zoologist's wife in Africa who suddenly finds herself having to deal with a mixed gang of rambunctious wild cats. The superbly funny situations that arise are given a special quality by the ever-present undertone of danger. For example:
Tippi is rolled down a ramp in a barrel; she falls off a three story building into a muddy lake, where a tiger is waiting to romp with her; she is literally walked over by a procession of 35 lions, some of whom step on her; an elephant picks her up by the foot, and when she screams, drops her obligingly in the mud; she is knocked senseless, engulfed in sticky honey, then licked awake by a black panther.
"Now I laugh along with everyone else when I see those scenes," said Tippi, "although they weren't always fun to shoot. "Roar" was the toughest movie of my life. But it was worth it."
Minnesota-born Tippi was an instant success as a model right out of high school. She was already at the top of that career when Alfred Hitchcock spotted her in a television commercial, and knew instantly that he had found the girl to play "Melanie" opposite Rod Taylor in "The Birds."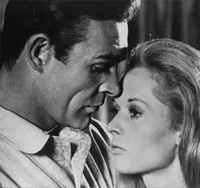 She went on to star in "Marnie" with Sean Connery, and "A Countess from Hong Kong" with Marlon Brando and Sophia Loren for Charles Chaplin.
Other film credits include the highly successful "The Harrad Experiment" (which her ex-husband Noel Marshall produced as a means of generating money for "Roar"), "Satan's Harvest" and "Kingstreet's War." She has also appeared in many television plays and appeared on stage in "Black Comedy" and "A Hatfull of Rain."
When Noel, her husband at the time, made a further detour in search of money by producing "The Exorcist," Tippi took over the reins as the sole producer of "Roar."
"Roar" has taken up twelve years of her life. The project began in Africa, where she was on location with Noel. They came across a pride of lions that had taken over an abandoned house in the bush. "We were delighted with the way they adapted themselves to living there," said Tippi. "And they were so funny we knew we had an idea for a picture."
On their return to California they began acquiring cats from zoos, circuses and animal control officers. (Today Tippi can see lions and tigers from any window of her house on the 150-acre ranch she shares with 111 Big Cats.)
With no previous experience, the Marshalls had to learn how to handle cats from scratch - literally. Tippi, Noel and their three children Melanie, John and Jerry (who also appear in the picture) were hurt. But today they all make light of the incidents. "We don't blame the cats," said Tippi. "At first we just didn't know enough about them to stay out of trouble. But it was always a case of love at first bite, and we learned fast."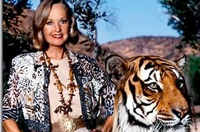 Although Tippi prefers to emphasize the lighter side of her love for lions, she is deeply involved in conservation efforts to save the world's disappearing wildlife.
In 1978 her own home became a disaster area when a flood devastated the ranch, sweeping away her house and all her personal possessions. When the monetary cost of that single devastating night - which wiped out property, editing equipment, film sets and years of filming - was added up, it totaled more than $4.5 million.
Today, with all the problems of "Roar" relegated to celluloid, Tippi Hedren can afford to smile about the perils of making her "ferocious comedy."
She said, "The whole family feels triumphant. Now we can keep all our feline friends cats in the style to which they have become accustomed."
"Making "Roar" was just like "The Perils of Pauline", a cliff-hanger every day. Now the cliff-hangers are not the physical kind, but the demanding problems of promotion, distribution and marketing associated with getting a major motion picture into the theatres and into public consciousness."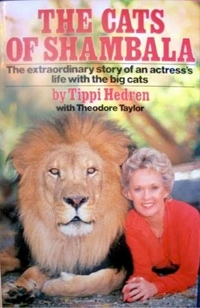 Tippi has devoted much time and effort to charitable causes: she is a volunteer International Relief Coordinator for "Food for the Hungry." Tippi traveled worldwide to set up relief programs following earthquakes, hurricanes, famine and war. Tippi has received numerous awards for her efforts, including the "Humanitarian Award" presented to her by the B'hai Faith.
As for animal causes, Tippi is founder and President of "The Roar Foundation." Onscreen, Tippi continues to work frequently in motion pictures, theatre and TV. She appeared in "I Woke Up Early the Day I Died" (1998), finally bringing to the big screen the last screenplay written by the late Ed Wood in 1974, (and featuring Vampira and Conrad Brooks, just about the only surviving members of Ed Wood's stock company).
Tippi's contributions to world cinema have been honored with Life Achievement awards in France at The Beauvais Film Festival Cinemalia 1994, and in Spain by
The Fundacion Municipal De Cine in 1995. In 1999, Tippi was honored as "Woman of Vision" by Women in Film and Video in Washington, D.C., and received the Presidential Medal for her work in film from Hofstra University.
Tippi Hedrun: omplete Filmography