Melanie Griffith
Actress playing the part of "Melanie" in Roar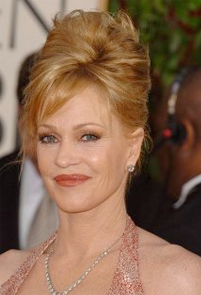 Melanie has played opposite some of the greatest stars of our time, including Paul Newman, Gene Hackman and Rock Hudson. But none of them were as hard to work with as the co-stars of "Roar": a gang of hitherto unknown lions, tigers, leopards, cheetahs, cougars and jaguars.
"Lions are a really tough act to play with," she said. "Not because they are dangerous, but because they are so funny. They upstage you every time. If you are in a shot with a lion you just know everyone is looking at the cat instead of you."
"Roar" may well have the most spectacular footage ever shot of Big Cats interacting with people, but it is hard to imagine anyone - human or feline-stealing a scene from Melanie. She is slender, corn-blonde and freckled, and has a voice and manner that are captivating on screen.
The only daughter of actress Tippi Hedren, Melanie's talent is clearly inherited, but there is no mistaking the ease that only comes with years of professional experience.
Her first starring role opposite Gene Hackman in "Night Moves" (1976), earned her rave reviews. Since then she has appeared in over 50 feature films.
Melanie Griffith: Complete Filmography